How Much Homeowners Insurance Do I Need?
Everyone who owns a home should carry homeowners insurance. Your home is, more than likely, the single largest investment you will ever make and you need to protect that investment. The question is not should I have homeowners insurance? The question is how much homeowners insurance do I need? When trying to answer this question for yourself the things you need to consider are the cost of rebuilding your home, the value of your personal possessions, and how much liability coverage you need. In this article we will discuss each of these.
The first thing we will talk about is how much coverage you need for your home itself, the structure. If you paid, let's say, $300,000 for your house you don't necessarily need $300,000 worth of coverage to rebuild the structure. A large part of the cost of buying a house is not even the house itself but the land that it sits on. If your house were to burn to the ground you would need to rebuild the house but the dirt underneath your house would be fine. So you would need to figure out ahead of time what the cost would be to rebuild your home.
If your house were to burn to the ground you would also lose all of your personal property. Things like furniture, appliances, electronics, etc. would all need to be replaced. Most companies will cover personal possessions for 50% to 75% of whatever your home's structure is insured for. You will have to determine the value of your possessions to know if that 50% to 75% would be enough to replace your belongings. Another thing to consider when insuring your personal property is that some policies will pay what it costs to replace the items and some policies cover the actual cash value of the items. If you have a 10 year old couch and an 8 year old television set the actual cash value of those items would be significantly less than the cost of replacing them with a new one. So it's best to insure your possessions for their replacement costs.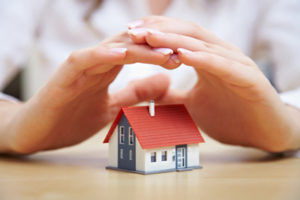 The last thing to consider when trying to figure out how much homeowners insurance you need is the amount of liability coverage you want. Most policies will come with about $100,000 worth of liability coverage and some companies may even offer $200,000 or $300,000 for the coverage. If you have a lot of valuable assets totaling more than the amount of liability coverage your policy offers, you may want to consider adding on additional riders to provide additional coverage. For example if you have a lot of expensive jewelry, a rare art collection, or you own a business and the value of any of these things were say, $500,000 you would want to make sure you have enough liability coverage to protect yourself in the event of a lawsuit.
These are some of the things you need to think about before you can answer the question how much homeowners insurance do I need? To truly answer that question for yourself you're going to need to spend some time assessing your needs and taking notes about the value of your assets and what it would cost to replace those assets. It would be a good idea to consult with a trusted financial professional to help you determine your needs.